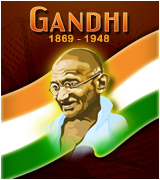 Mohandas Karamchand Gandhi, the father of the Indian nation, inspired millions of people to believe in freedom, truth and non-violence, when the world was torn apart by wars. Revered as the Mahatma, this simple man, through his simple methods of 'ahimsa' (non-violence) and fasts unto death, brought an end to the British colonization in India. The life of Gandhi touched the rich and the poor, the common man and the intellectual, alike. And continues to do so. Gandhi is as relevant today as he was in his lifetime.
The dramatic life of Mahatma Gandhi is told in the comic format with exceptional illustrations. The wisdom and philosophy of Gandhi are also strikingly illustrated in the e-cards that come along with the stories.
A 'lite' version, containing 2 stories and 5 message cards, has already been launched for iPhones and iPod Touch. These can be downloaded for free, from Apple's Appstore and would also be in Nokia Ovi store soon.
http://nextwavemultimedia.com/iphone/gandhi/index.html