Once again Nextwave has demonstrated the ability to quickly master a new technology and use it to develop an exciting product.
When Showspace, the event managers and their client TVS Motor Company, wanted to create something engaging and high-tech, Oculus Rift was the choice. Nextwave was already into the new Oculus Rift technology and had done the groundwork development of the engine. Oculus Rift, the next gen immersive Virtual Reality (VR) is a head-mounted display unit which the user straps on and views the game. The experience is unlike any other VR technology.
Using this game changing technology, Nextwave developed 'Racing Aces', a Dirt Biking simulation, for TVS Motor Company, the leading two-wheeler manufacturers, and the makers of the high speed bike, Apache.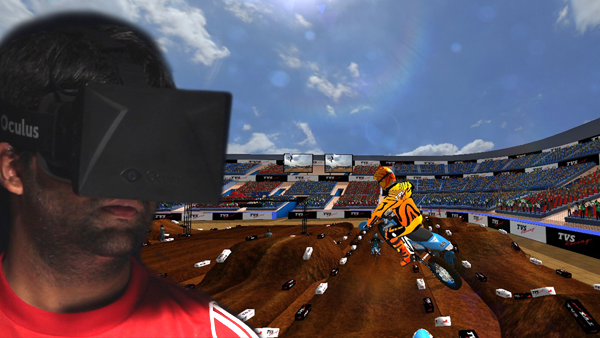 Using 'Blender', the Open Source software, Nextwave created a realistic dirt racing track, complete with spectators. Bike physics, Artificial Intelligence of the riders & other essential racing behaviors was then programmed using Unity3D.. With the addition of atmospheric sound effects of crowds cheering, bikes roaring and metal clanging during the collision of the bikes, the effect is high-fidelity virtual reality… Scarily thrilling. Definitely not for the faint-hearted!
'Racing Aces' will be the star attraction at the stall of TVS Motor Co. at the Auto Expo 2014 (Feb. 7-11). Curious to know more? Here's a teaser!
Find out more information on xBhp's exclusive preview in the following link
http://www.xbhp.com/talkies/general-biking-discussion/28390-exclusive-xbhp-preview-virtual-reality-dirt-bike-race-simulation-tvs.html