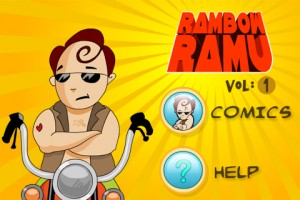 Comicshead, a Nextwave Multimedia venture, has launched Rambow Ramu, India's first and probably among the first mobile comic series in the world . For the first time a complete comic series will be published in the mobile medium.
Rambow Ramu is available for free download in Ovi Store from Nokia, iTunes Store from Apple, and Android Store. The Rambow Ramu series will also soon be available for Windows mobile.
Rambow Ramu is a comic series about the misadventures (read dreams) of a village lad, who lives, breathes, eats and sleeps to be the next 'King Of Bollywood'. The series, which was launched  recently, is receiving an overwhelming response from all over the world. Ninety-eight percent of the reviews received are very very positive.
Every few weeks new volumes of the comics are to be released.
Nextwave has already launched  'The Story of Gandhi', 'Thomas Alva Edison' and 'Panchatantra Tales' on various mobile app stores.
To download the comic series free search for Rambow Ramu in the App stores of Nokia ,Apple and Android .