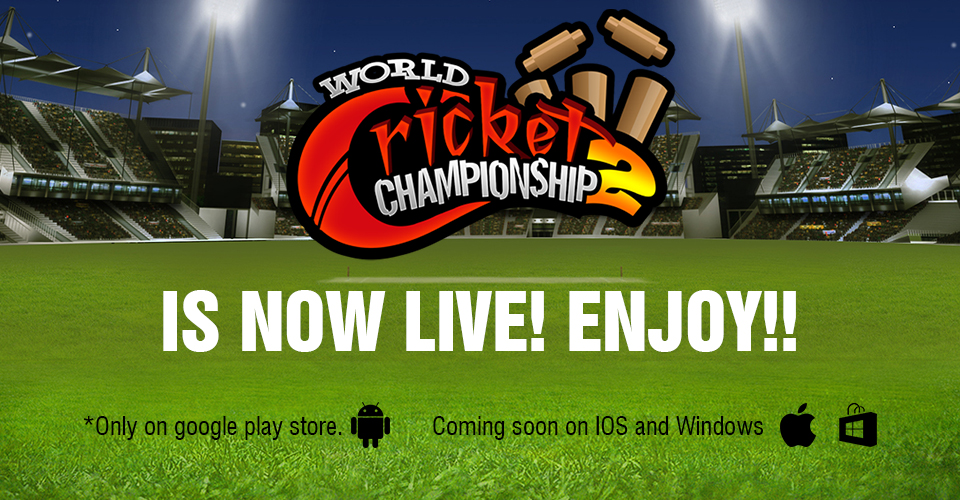 You can download the game here: https://play.google.com/store/apps/details?id=com.nextwave.wcc2
Good news for all you cricket lovers! World Cricket Championship 2 has now hit the google play store. So there is something new in this for all our fans. If you're into hardcore cricket gaming you can experience the new "Pro-Control". If you're into design and aesthetics then you can design your player's jersey according to your whim. World Cricket Championship 2 also has other features like recording your best moments so that you can share it on Social Media. If you're into witty writing, you can also get creative and cheer your team through custom messages. Our awesome features include:
• 45+ different batting shots, including the most wanted Helicopter shot, Dil-Scoop, Upper-cut etc.,
• Enjoy the Blitz Tournament for free!
• The much awaited Autoplay mode for bowling and batting!
• Electrifying fielding with stunning diving catches & quick throws to surprise the opponent.
• Challenging AI opponent
• Realistic ball physics which responds to the pitch (Dead, Dusty, Green)
• Player attributes – Players gain extra skills for consistent performance and this enables them to improve progressively
• 18 different international teams, 10 domestic teams. More than 4 tournaments including World Cup, World T20 Cup, Blitz Tournament and ODI Series. Test Cricket will soon feature in this mode!!
• The Gangs of Cricket mode where the user can form gangs and compete in challenges.
• The Open Challenge Mode enables the user to challenge other gamers. There is also a betting system incorporated in this mode.
• Record your favorite moments: The player can now record their favorite moments in the game and share it with their friends/rivals on Youtube and other Social Media Platforms.
• Batsman may get injured for poor shot selection.
• The emotions of the fielders vary according to the circumstances of the match.
• Cinematic cameras and real time lighting enhances the visual appeal.
• Realtime Infographics representations include:
3D Wagon wheel with dynamic game data
Hawk-eye view for bowling summary & for LBW appeals
3D Bar chart for innings run scored
• Ultra slow motion Action replays with multiple camera angles
• Over 40+ in-game camera angles
• Two different batting controls (Classic & Pro)
• Two different batting camera settings (Bowler's end & Batsman's end)
• Fielders are configured with advanced ball – head coordination system.
• Professional Audio commentary
• Dynamic ground ambient sounds
• Batting Timing Meter, (following by a lofted shot)
Perfect timing- Results in a sure six but it is not very easy to execute.
Late timing – This might result in a catch or a top-edge
Early timing – A very low powered shot.
• Field placement to control your opponent AI batsman
10 field options
Manual field placement to plan & bowl accordingly & to master yourself as captain
• User can edit the player names and their roles.
• Misfielding, stunning wicketkeeper catches, quick stumping & tight 3rd umpire decisions to create realistic cricketing experience.
• Over 100+ motion captured animations
• Enhanced ball connection with bat even with low configuration devices
• Battle tested and updated engine to provide fluid 30fps gaming on most mid-range devices.
For more details check out:http://cricketbuddies.com/world-cricket-championship-2.php

So what are you guys waiting for! Download the best Cricket game that has ever hit the appstores right here: https://play.google.com/store/apps/details?id=com.nextwave.wcc2