These are Multiplayer games and you can play with up to 10 people simultaneously!, on a Samsung smartphone, without using the cloud or server.
All you need to do to enjoy the multiplayer game is for every player to be on the same Wi-Fi network.
Here are the games: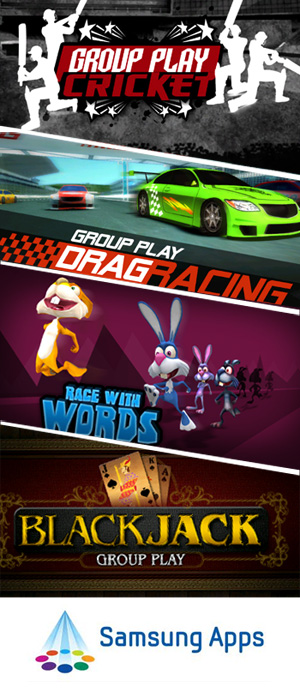 Group play Cricket:
If you are good at batting, why not prove it among your friends with this game. Enter your name, group name and number of overs to start playing. You can challenge up to 9 of your friends in the same Wi-Fi hotspot to enjoy highly entertaining game with rich visuals, realistic animation and crisp camera movements.
Game link
Group play Drag Racing:
If you got a craze for racing games and want to make your friends smell your burning tires, here is the game for you. With group play option, you can compete with max of 5 of your friends and prove you are the best. You can also compete yourself on time trial basis.
Game link
Race with Words:
How many words in English do you know? Check out yourself fueling the racing bunny with your Word power. To make it even more interesting you can earn power tiles, if you create powerful words or complex words. Use the nitro tile to zip past your opponents or the slow tile to slow them down or use the new tile to get a new set of alphabets or the multiplier to get those points you want or get your paws on the joker tile and put your own alphabet to get that ridiculously crazy hard word.
Game link
Blackjack Group play:
This one game does need a group play feature and here it is finally. Blackjack alias 21 from Nextwave allows you to challenge up to 5 of your friends in the same Wi-Fi hotspot.
Game link
Hope you try all and let us know your choice among the four.
Happy Playing!!