Everyone is raving about Extra Terrestrials, the live show produced by Show Space. Nextwave played a small role in making the show a success.
We worked closely with Show Space to design and develop a website on the event, 'www.etwow.in'.  The client's brief was that the website should convey the 'wow' factor, which the show was promising. As the website was central to the communication plan, and was the potential audience's first 'touch point' with the event, we put our creative brains together to come out with a design that would make the visitor immediately click on the 'Book Your Tickets Now' button for online ticket booking.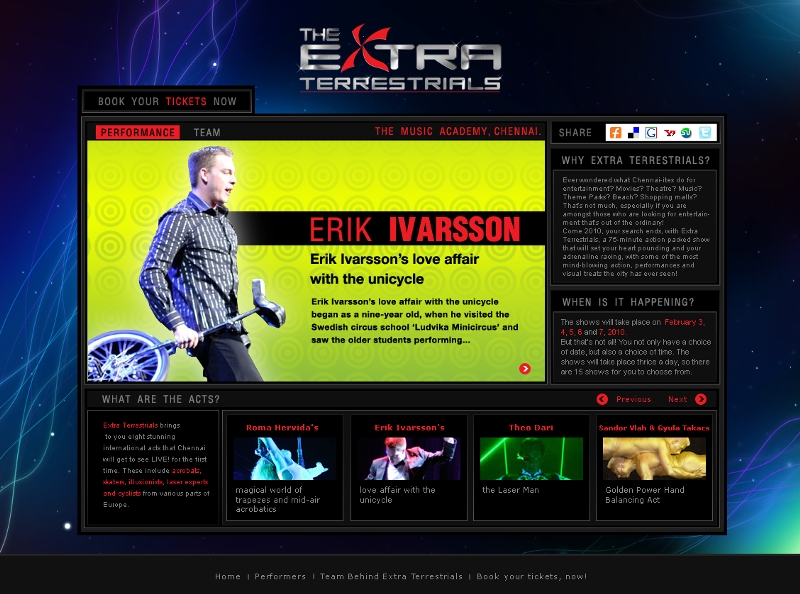 A screenshot from the website
Besides the event website, we also worked on a number of audio-visuals. The first was a 3-minute AV that built up the excitement by showcasing performance videos of the eight artistes. This video was used to sell the event to potential sponsors, and was also included in the event website for the potential audience to get a better feel of what was on offer.
Two more AVs were produced by us for screening before the start of each show of the event. With a fast-paced thumping music track, the first AV gave glimpses of the various kind of work done by Show Space for their clients. And the second AV was a curtain raiser that captured the zest of the Extra Terrestrials show.
Instead of a live show presenter, the client felt a recorded voice would be a better option to host the show. So, we opted for a foreign voice artiste to maintain the international flavour and tempo of the show.
The voice was recorded abroad, and the complete packaging was done in a record time of two days. As we expected, it enhanced the watching experience of the audience.