Java Magazine is a bimonthly digital publication, brought out by Oracle to ensure the continuing health and growth of the Java technology ecosystem.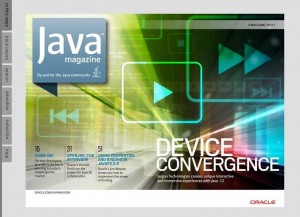 The May/June 2012 issue of the Java Magazine features Nextwave in the section on 'Java in Action'. The story, titled 'Game On!' discusses how Java ME is playing a major role in helping mobile app developers profit in India, one of the fastest growing economies, and the world's second-largest mobile phone market. The article then discusses how Nextwave refocused its business growth strategy to building and marketing its own mobile apps for this vast and exploding mobile phone market.
The article also mentions the induction of Nextwave into the Nokia Millionaire League. Here's a brief excerpt from the relevant paragraph:
"Nextwave Multimedia is a member of the Nokia Millionaire League, a select club of only 350 Nokia mobile application developers from around the world. This exclusive club is reserved for mobile app developers who have had more than 1 million downloads from Nokia's online app store. Nextwave has had more than 25 million downloads of its mobile apps from Nokia Store."
The article can be accessed here.