The award winning app is now available for IPAD.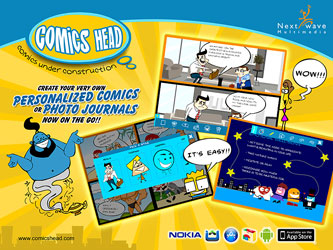 Comics Head  An Overview
We all love to tell stories, share our experiences, comment on issues that affect us and tell our friends about places we visited. Comics Head enables you to do all of it with ease in a visually compelling format  Comics, Photo Comics, Story Board and Photo Journals. Comics Head is an easy to use self publishing tool; if you have an idea you can instantly create visually interesting content on the go. What's more you needn't be an artist to do this!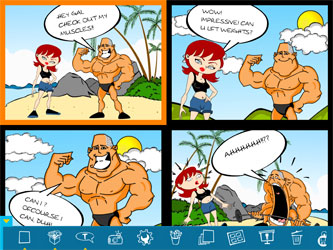 Features
Template Library
You can get started with Comics Head quickly by choosing from the inbuilt library of templates. Choose a template suitable for your idea, change the character , choose appropriate emotion, change the background, type in the text and you are ready to publish your first comic, photo comic, story board or presentation.
Art Asset Library
Comics Head has a large library of assets – characters, choice of emotions, variety of backgrounds, props, speech bubbles, and Fx. The Art Asset Library is set to get bigger with more additional art with the next release coming shortly. Theme based art asset packages like Hospitals & Clinics, Schools & University and Law & Order will be available as in App purchases with the next release.
One can click photos from within the app or use photographs from facebook and other sources to instantly create photo comics, photo journals, story board or unique looking slides for your presentation with the tools in Comics Head.
The Paint-tool allows one to draw, colour, and erase with ease. It provides the user with a choice of geometric shapes to use as backgrounds and nibs of various thicknesses. The ad free version has the option to save to edit and rework on the artwork later. A limited time offer at .99$ is available for a short while
Once you have completed your comics or story board you can share your work through facebook and e-mail. The next version launching shortly will have the option to share to Twitter, Flickr, Tumblr and Instagram from within the app.
Comics Head was earlier launched online and for mobiles as Comics Creator and won many awards
Intel AppUp Developer Grand Prize Award in the Most Innovative Application Category 2011
Nokia Calling All Innovators Contest – 2010.
Tutorials
Youtube:http://www.youtube.com/thecomicshead
Links
Comics head lite Ipad:
http://itunes.apple.com/app/comics-head-lite/id525363849?ls=1&mt=8

Comics Head pro Ipad:
http://itunes.apple.com/app/comics-head/id480969185?ls=1&mt=8
Ovi Store: http://store.ovi.com/content/42786?
Intel AppUp: http://www.appup.com/app-details/comics-creator
Official website: http://www.comicshead.com/
Facebook: https://www.facebook.com/comicshead
Twitter: Comicshead
Tumblr: http://comicshead.tumblr.com