Goats and Tigers 2- Your Brain Gym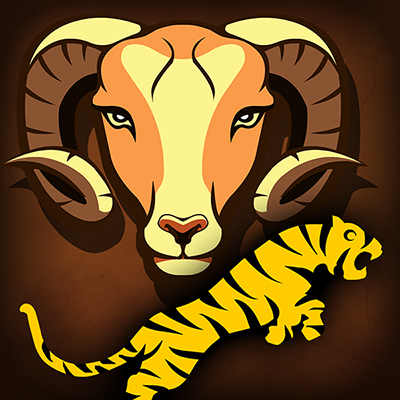 Goats and Tigers from Nextwave Multimedia is an attempt to re-envision India's original Social 'brain game' for the tech-savvy audience. This game incorporates the social dimension and captures the essence of ancient Indian aesthetics to give the user a great gaming experience.
Goats and Tigers was enjoyed for over two millennia in the Indian Subcontinent and this game is sure to capture the imagination of a diverse audience in the 21st century as well!
Goats and Tigers is your own brain gym! You can play this game every day, anywhere any time for some fun and bit of brain exercise. Goats and Tigers in the 21st century has its own charming intricacies and interpretations. This is the first attempt to creatively interpret this game with very cool power-ups, lots of boards to choose from, an exciting multiplayer mode and the single player mode with a very smart AI to contend with!
The Social dimension of the game includes in-game chats and an option to share coins with the other users. The Players will also have the option of the "Tiger Leap" if they choose the Tigers and the option of buying eliminated goats if they go with the goats so it's game on! The player can also choose from 4 diverse boards with each board having unique challenges. You can track your progress through leader board and announce your presence in the game through in-game award system. So enjoy this epic journey from being a humble Bahadur to the Royal Mahachatrapathy with this ancient Social Brain game! This brain game is sure to get you smarter by the day!
Goats and Tigers is loaded with:
• 4 Diverse Boards
• 6 Indian Languages to choose from and more coming soon!
• Exciting Power up
• The Multiplayer mode for the first time in mobile Goats and Tigers games
• The exciting option of live chats with opponents that captures the dynamics of Social gaming!
• In-game award system

History of Goats and Tigers
Goats and Tigers go by many names: Aadu Puli aatam in Tamil, Puli-Meka in Telugu, Adu-Huli in Kannada and Bagh Chal in Nepali. This is another great game like Chess from the Indian subcontinent! The origin of this game is lost in the echelons of time but there is some evidence that this genre of gameplay existed all across the Indian Subcontinent.
In the Indian landscape there is strong evidence of Goats and Tigers existing right from the time of great Empires. Variations of the game have been found in ancient temples across South India. Goats and Tigers is also found embedded in spaces where there were Social gatherings. A large excited crowd cheered and did a little betting during the game. This game's board can be found etched in many spaces all over the rural countryside! This shows that this game has a folk origin with popular appeal unlike chess which had its origin in Royal courts. The Portuguese in India also seemed to enjoy this game! The game was found etched in a Portuguese fort and it seemed to be popular among the troops. Goats and Tigers is still enjoyed all over the Sub-Continent. This project attempts to recreate this game which began with Humans first drawing the board in the sand and dirt of the Indian subcontinent to a mobile platform. We envision that this would add to the rich global future that awaits us!
Asymmetric-strategy games have a common Human Heritage and can be counted among the greatest classic strategy games like Chess. The game of Fox and Geese which is a variation of an older Viking game known as Hala-tafl is also a asymmetric strategic game with another history.
You can download the game here: https://play.google.com/store/apps/details?id=com.nextwave.goatsandtigers2&hl=en